At the GARDENIA 2021 Fair, we will see as many as 13 products awarded with the Gold Medal - one of the most recognizable statuettes in Poland! Only products and services that stand out in the market for their quality, technological and functional values can apply for the Gold Medal. We invite you to familiarize yourself with the list of Laureates.
The original collection of dahlias by Wiesław Legutko, Eng., PhD / W. Legutko Przedsiębiorstwo Hodowlano-Nasienne Sp. z o.o.
"For the Love of Flowers" is the original collection of dahlias by Wiesław Legutko, Eng., PhD It was created out of a great passion for gardening, which is an important part of its creator's life. Flowers, and in particular dahlias, are Wiesław's great love, so he decided to create a new range of dahlias of his own breeding. Dahlias from this range are unique because their author is the president of the company W. Legutko. The selection of the assortment for the series was based on the favourite colours and varieties of the company's boss.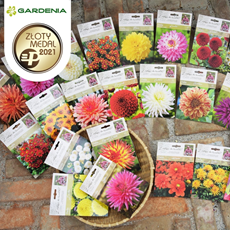 Patison Aureus F1 pumpkin / W. Legutko Przedsiębiorstwo Hodowlano-Nasienne Sp. z o.o.
Patison Aureus F1 is an excellent variety characterised by high yielding and high-quality fruit that can be used in the preparation of many dishes and preserves. Fruits are low in calories and rich in vitamins and microelements, they are perfect in the diet of people who care about maintaining a proper body weight.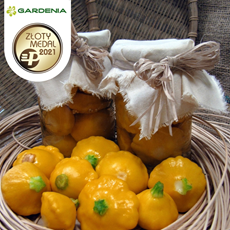 RAYMO ECO MOWERS / RAYMO S.R.O. / TOMEX-OGRODY
Raymo mowers are a new mower concept. They ensure quiet operation, no vibration, zero emissions, as well as versatility and low operating costs. Raymo eco-mowers are short, with a zero turning radius and a four-wheel drive that ensures a confident ride and maneuverability. The device is remotely controlled so that the operator maintains a safe distance. The eco-mowers are perfect for urban areas, on photovoltaic farms or for the maintenance of green areas around large workplaces.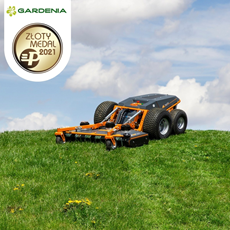 WA BEST ONE VOX MA Submersible electric pump / ARIES POWER EQUIPMENT Sp. z o.o.
Submersible electric pump for wastewater with AISI 304 stainless steel hydraulic system. Outer casing, impeller, filter, motor cover, seal disc and motor housing made of AISI 304 steel, shaft made of AISI 303. Mechanical seal made of ceramic/carbon/NBR. Fitted with 5m or 10m H05 RN-F power cable (single phase), for indoor and outdoor use, with or without a float.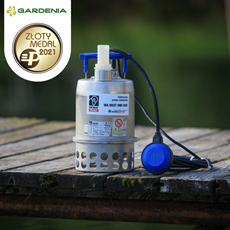 Daliowe Love collection / W. Legutko Przedsiębiorstwo Hodowlano-Nasienne Sp. z o.o.
The Daliowe Love collection is a series of dahlias in bags designed for lovers of dahlias. It consists of 6 unique compositions of varieties of different colour, shape and size of inflorescences and plant heights. The range of products is diverse and has been developed based on the prevailing trends, and its composition is carefully selected. Ecological packaging with attractive graphics makes the bags stand out on the store shelf.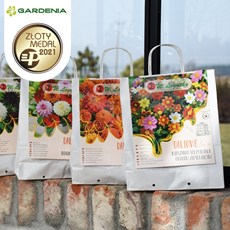 HONDA UMK 450 E XEET Brushcutter / HONDA / ARIES POWER EQUIPMENT Sp. z o. o.
UMK 450 E XEET is a professional brushcutter with a bicycle holder mounted on a special anti-vibration system. It uses a modern 4-stroke Honda GX 50 engine with a capacity of 47.9 cm³ and a power of 2 HP. This motor offers reliable power with very high torque. The brushcutter is equipped with a durable Tap & Go trimmer head and a 3-tooth blade with external dimensions of 30.3 cm, therefore it is ideal for mowing grass and weeds with strong woody stems.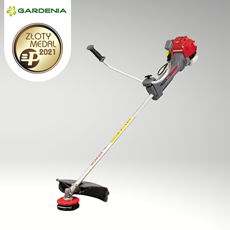 Plant stand KARO eco coffee deska / LAMELA Spółka z ograniczoną odpowiedzialnością Sp. k.
The KARO plant stand is a perfect combination of functionality, design and care for the natural environment. The product provides healthy plant growth/water drainage system, has a very attractive surface texture and uses nearly 40% less plastic in its production. Instead, it contains natural materials such as wood shavings and coffee husks. This is waste that would have to be disposed of. Meanwhile, they get a new life in the form of the presented product.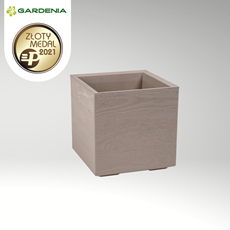 LUIZA /PLAIN DWARF BEANS / PLANTICO - Hodowla i Nasiennictwo Ogrodnicze Zielonki Sp. z o. o.
Asparagus variety, medium-early (vegetation period approx. 68 days). Plants with a strong root system. Intensely yellow, glossy pods, straight, fleshy, with no tendency to form fibers. Luiza is distinguished by a high share of the marketable yield in the total yield and high tolerance to fungal, viral and bacterial diseases. Variety recommended for traditional cultivation in the field and accelerated cultivation in a tunnel. Intended for the fresh market, also suitable for processing.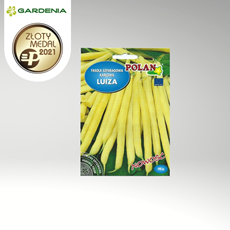 Bumblebee attracting mixture TRZMIELE / Przedsiębiorstwo Nasienne TORAF Leszek, Tomasz i Rafał Węgrzynowscy Sp. j.
Do you want to help bumblebees? Protect their habitats and create new ones. Create your own meadow and listen to the buzz. Bend over it, take a look at its lush life, the complexity of its forms and their interrelationships, the diverse plant structures and the beauty of the insects living there. Maybe together we will be able to save what we are slowly losing irretrievably.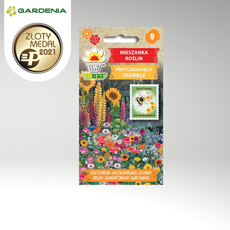 Fertilisers with basalt flour / TARGET S.A. / TAMARK SA
The first unique multicomponent fertilisers with basalt flour in Poland. They contain the necessary micro and macro elements such as nitrogen, phosphorus and potassium. The addition of basalt flour enriches the fertiliser with silica, alumina, iron oxide, magnesium, calcium, sodium or manganese. Thanks to the selection of the fertiliser composition according to the needs of amateur gardeners, with the participation of specialised scientific institutes, there is no risk of over-fertilisation of plants. Natural silica contained in basalt strengthens plant cell walls and thus makes plants resistant to pests and diseases. Basalt flour contained in the fertiliser improves the quality of the soil, its structure and stimulates the activity of beneficial microorganisms. Providing the soil with natural calcium and magnesium determines the proper growth and development of plants. Fertilisers with basalt flour are a product registered by the Ministry of Agriculture under No. 520/19.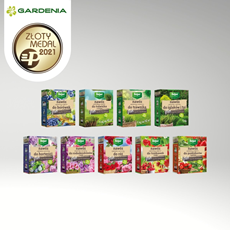 CUCUMBER STARTER F1 / PLANTICO - Hodowla i Nasiennictwo Ogrodnicze Zielonki Sp. z o. o.
Very early variety, very fertile, without bitterness. The fruit does not turn bitter even under unfavourable agrometeorological conditions. Light green peel. Thick, medium-sized wart, sparse. The fruit is elongated, with light furrows with a length to width ratio of 3.1-3.2:1. The variety is distinguished by a very high resistance to downy mildew and no tendency to grow into thickness. The F1 starter is also resistant to cucurbits scab. Intended for the fresh market, for preserving and fermentation.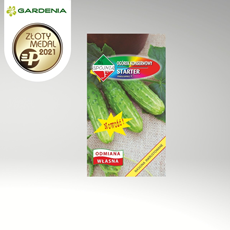 Soil for ornamental grasses Wokas Smart / WOKAS SA
The soil for ornamental grasses is an innovation on a national scale. It is the first product dedicated to this type of plant on the market. Following the needs of customers, we have created a novelty that meets the expectations of the most demanding lovers of this type of greenery. It is a unique composition of ingredients thanks to which all ornamental grasses will grow at a suitable pace. Thanks to the selected peat, sand and porous aggregates, the grass will have appropriate conditions for root growth, and thus stabilisation in the ground, which is of great importance in the case of tall plants susceptible to strong gusts of wind. A properly composed nutrition system based on green compost, long-acting multi-component fertiliser and zeolite will ensure the right growth rate for various species of grass, green leaves saturation and proper colour of the ears. This innovative nutrition system will meet the nutritional needs of plants for up to 8 months. The confirmation of the beneficial effects of our soil is the research carried out at the Institute of Horticulture in Skierniewice. In order to meet the expectations of modern consumers and to fit even more into the trend of intelligent solutions, we have created a special Wokas application. It acts as a personal assistant who helps to care for home plants, thanks to which each user will be able to: create their own collection of ornamental grasses, get support in their care and learn about dedicated Wokas products. An additional distinguishing feature of this product is the practical and very convenient packaging with a handle.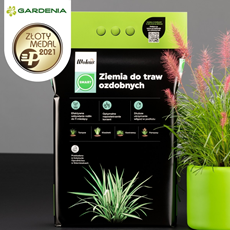 HYDRON IDEAL™ Hand Sprinkler / CELL-FAST Sp. z o. o
Technologies used: - UNI FIT™ − compatibility with accessories and garden sprinklers available on the market, it is a great alternative for owners of various irrigation systems - SAFETOUCH™ − non-slip coating, ensuring excellent use properties and protecting the product in case of hitting hard surfaces. The product entered our offer this year. It is very popular among customers.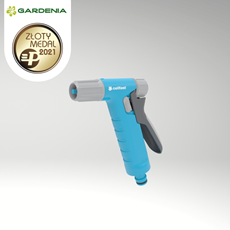 Congratulations to the Winners! We invite you to the next stage of the competition: the Gold Medal - Consumers' Choice plebiscite, in which the Internet users decide about the winner. You can cast your votes via the website HERE