Why is it worth becoming an exhibitor at the Fair?
Download the brochure for exhibitors and learn about the benefits associated with presence at Gardenia 2020.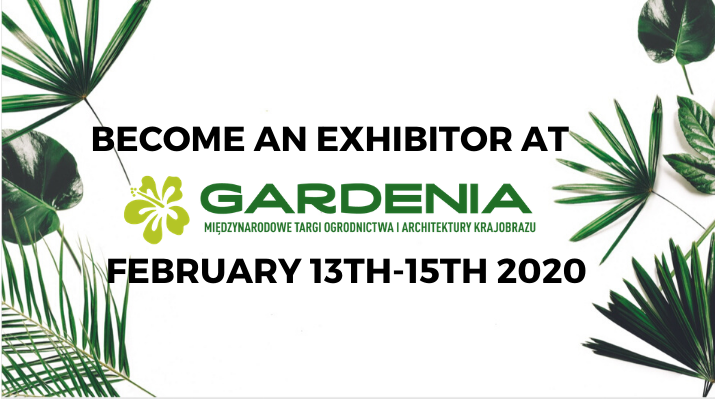 Another edition of GARDENIA will be held on 13-15 February 2020 in Poznań.
BENEFITS OF PARTICIPATION IN GARDENIA 2020
meet professionals – every year the fair gathers owners and employees of wholesale outlets, gardening centres and stores, persons responsible for urban and residential green areas, landscape architects, representatives of companies arranging gardens, owners of gardening farms and horticultural nurseries and fans of beautiful gardens
see new products – every year, many companies present their new products for the upcoming season and many products have their premiere at GARDENIA. We offer opportunities to display and promote new products by using our communication channels - our website and social media
meet the representatives of target-oriented media – we invite representatives of popular and specialised magazines focused on the horticultural industry
establish international contacts - every year we invite foreign partners to participate in the HOSTED BUYERS programme
we appreciate professionals - GRAND PRIX GARDENIA and MTP GOLD MEDAL competitions are extra opportunities to promote brands of the exhibitors
we are open to garden fans - we extend the zone for individual customers and show that time spent in the garden may be pleasant and rewarding
we focus on development - as a part of GARDENIA 2020 we will organise the Landscape Arena with workshops and lectures for professionals specializing in arranging and maintaining gardens, we also plan numerous educational zones for visitors
By registering their participation in the GARDENIA Fair, exhibitors have a real influence on the direction in which the horticultural industry in Poland will develop. Take the opportunity and create with us another succesful meeting for professionals that gathers the whole horticultural business, present innovative horticultural solutions and set new trends.
GARDENIA will feature many innovations, significantly translating into an increased number of visitors from all over Europe! Download the latest brochure for exhibitors and learn about all the benefits of presence at the Gardenia 2020 Fair.